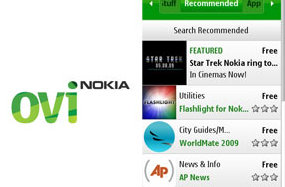 Stores Nokia,
Ovi Store
recorded significant growth. The number of downloads on Ovi Store has now reached 5 million times per day and application rates have exceeded 40 thousand units.
Reported by Computerworld and quoted on Wednesday (04/13/2011), the number of applications on Ovi Store increased 8-fold over the past year. It's pretty much when compared with Apple's App Store which has about 350 thousand applications. But Nokia still consider the application store is a success.
"With more than 5 million downloads per day, Ovi Store is very important for Nokia and its customers Symbian, and Nokia will continue to support him to provide the best experience for consumers," said Nokia spokesman.
But in the future, there are questions about the viability Ovi Store serving Symbian-based phones. This is related to cooperation with Microsoft to use Nokia Phone Windows OS 7 on a smartphone.
As we all know, Microsoft also has its own application store, namely the Windows Marketplace. Analysts assess Ovi Store and Windows Marketplace will not stand alone, but may be incorporated when Nokia started selling the handset WP 7 in the next year.
Nokia itself has promised to continue to support Symbian though WP 7 serves as their main OS. Finnish vendor has just released two smart phones based on Symbian, E6 and X7.