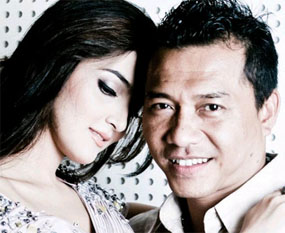 Anang Hermansyah
singer celebrates birthday-42 on Friday(03/18/2011). On that special day, Anand get a special gift fromher duet partner, Ashanty.
Gifts were given Ashanty when both perform at the 18th birthdaySheen ANTV in JCC on Friday (18/03/2011) night. FamilyAnand from Jember also come to give surprises.
"No never thought until my brother came directly from Jember.This is the most exciting birthday in the history of my life.Previously, pas sing in Samarinda, he (Ashanty) We surprised,and now make a surprise anymore. There is a special gift fromhim," said Anand sumringah.
Found in the same place, Ashanty admitted it was preparing a surprise for Anand. As a duet partner, he wanted to get involvedin the day happy Anand.
"He's a partner duetku who always support me. So may I lovedong mas surprise for Anand," said Ashanty.