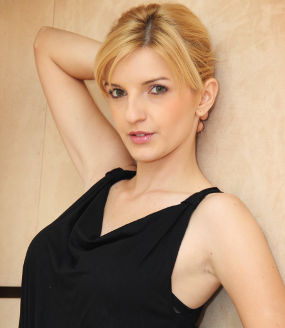 Indonesia is one country that is rich in culture and natural. Not a few foreign tourists who come and visit Indonesia every year. They are not just for holidays only, there is also a really intend to learn everything about. One is a Caucasian origin of Slovakia,
Adrika Musilkova
. He was deeply in love against the cultural diversity of Indonesia.
To the extent that he was willing to leave his homeland to learn the culture of the Slovak Republic of Indonesia. Not only that, the woman born July 25, 1985 was also tried his luck with a foray into the entertainment world to be a presenter.
"I'm glad to be a presenter, because I can enjoy, can walk around Indonesia and can learn a lot too," he said in Indonesian that little haltingly, sometimes interspersed with English to reporters at the office detikhot Rachman Haryanto AFP, Jl. Warung Jati West Raya No. 75, South Jakarta, recently.
Now Adrika, she always called, has lived and lived in Indonesia for approximately 16 months. Pretty face 25-year-Wiri wara often on screen to show 'Learning Indonesia' which aired on Trans TV. In addition, he also hosted 'Travel Diary' that aired at one of local television, Sun TV.
His acting skills can be said to flow away. In their home country, Adrika was never involved in the entertainment world. Only, when he was 19 years old, he had followed the casting for a music program there.
Unfortunately, at that time he was still too young to be entertainers in the country of his birth. Because in Europe, according to him, people who work in the entertainment world mostly aged 24 or 25 years. He also resigned and returned to his activities as a female office workers.
Having set foot in Indonesia, he also had the chance to work and lead an English educational institution based in Yogyakarta. However, it did not go long, because women who have green eyes that have moved and settled in Jakarta.
"First of all in Jakarta, I just sit at home alone, I'm just watching tv, playing internet, cook, just like that every day, I become bored," said the owner of 164 cm height and weighs 49 kg.
Finally, women who like spending it to get news from one agency that is sheltering himself in Jakarta. He began casting and become a star menikuti ad. Some of the advertisements he has starred include beauty products, banks, electronic products, milk and snacks.
After that, he began to enter the world of television presenters 'Travel Diary' and 'Learning to Indonesia'. Women who fear the forest was "very happy to know the richness of Indonesian culture that he had never seen before in other countries.
"I like the culture, because culture between Kalimantan, Sulawesi, Bangka Belitung, Sumatra, Java and the Thousand Islands, it's different all. I've been to Kilkenny, until now I really love it with traditional clothes. That's wonderful," said women's hair blonde it honestly.
Adrika also claimed to love with the cuisine of Indonesia, especially the cuisine field. Besides, he also likes to pempek typical Palembang, Banjarmasin Soto, Mie Celor, and also Coto Makassar. All the food that he tasted directly in their respective homelands. That is one of pleasure to be a presenter of a travel show.
Adrika deeply wanted to explore the interior of Irian Jaya. Because according to him, the area was still very natural once with diverse cultures that exist. So far, he only heard the stories and see pictures of his friends who had never visited the land of Papua.
"I'd love to Papua, I never see pictures of my friends like once unspoiled. But I do not like the jungle, there is fear of spiders. I'd love to see the conditions there, because many people say beautiful," she said.