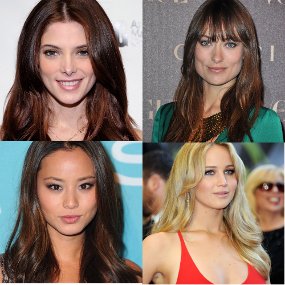 Until now, there is no name that was chosen to replace Angelina Jolie as Lara Croft in the reboots version of '
Tomb Raider
'. But there are five actresses who likely will fill that position. Who are they?
The producer, Graham King reveals, newer versions of 'Tomb Raider' will display the new Lara Croft adventure young. Here are five actresses who are expected to replace Angelina Jolie as Lara Croft:
1. Olivia Wilde
Olivia Wilde's name directly to local media touted as a replacement Jolie in the latest version of the 'Tomb Raider'.However, when confirmed, the star of 'Tron: Legacy' is denied.Wilde considered to some as the most appropriate figure to portray the character Lara Croft. In addition to beautiful, 27-year-old actress also smart, and looks like a woman fighter.
2. Ashley Greene
In the movie 'Twilight', Ashley who plays Alice Cullen is seen as a strong female figure despite having a small body. But it is happening thanks to the power supernya as a vampire. If he played a character Lara Croft, the fans 'Tomb Raider' may not agree. Actress born February 21, 1987 were considered not to have enough power to fight as an ordinary human.
3. Jamie Chung
Less familiar with this name? Jamie Chung has been playing in film comedy 'Grown Ups' and 'Hangover 2'. The name of the actress born 10 April 1983 it became known after a role in 'Sucker Punch' and 'Dragonball: Evolution'. Having an exotic brown skin, Chung regarded as a strong female figure and the adventurous type. He also has a beautiful face.
4. Jennifer Lawrence
Sexy blond woman, holding weapons and adventure. The most fitting description to describe the character of Jennifer Lawrence if role as Lara Croft. Although he was only 21 years old, but Jennifer ability no doubt. He praised her role in indie film 'Winter's Bone'. Jennifer has also been nominated at the Academy Awards for Best Actress.
5. Teresa Palmer
Born in Adelaide, Australia, February 26, 1986, Teresa Palmer began his career as an actress when starring in the indie film by director Murali K. Thalluri titled '2: 37 '. At that time, 18-year-old Teresa did not have acting experience. Teresa began to shine when playing in the movie 'December Boys' along with actor Daniel Radcliffe. He also has shown his acting skills in 'Bedtime Stories' with Adam Sandler and "The Sorcerer's Apprentice" with Nicolas Cage.