The rest of us have known about it for weeks, but Jersey Shore star Sammi "Sweetheart" Giancola reportedly left the show late last week after watching some early Season Two episodes that reveal Ronnie Magro creepin' on random hoes.
As we've seen pretty much all season so far, Ron has been getting absolutely rip$h!t drunk, mauling any grenade or land mine in sight, then crawling back in bed with Sammi. It's an ugly situation. He's extremely dirty and she's pretty naive.
At least until the cast watched the complete second season while shooting the recap last week and Sammi finally saw just how hard Ronnie cheated on her.
Sammi somehow no idea Ronnie was cheating, despite the fact that a camera crew documents his every move and would obviously bust him eventually.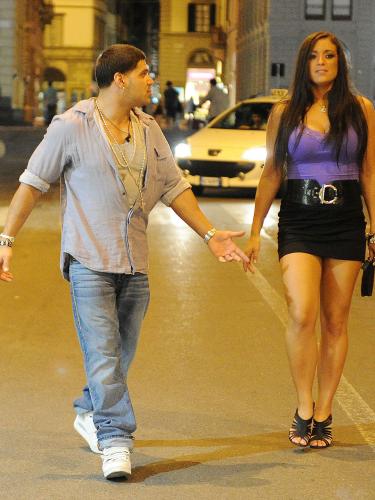 I'M DONE: We've heard that 406 times before, but now ...
"Sammi was angry and hurt by everyone," a source close to the Jersey Shore cast said. "She couldn't believe Ronnie did this and the girls hadn't really told her. She just couldn't stay living with the person who did this to her, so she moved out."
Hard to blame her. The South Beach exploits of Ronnie Magro are epic.
Seriously, we've seen drunken debauchery before, but this guy gets so plowed he can't see straight, would hook up with a stray dog if it showed interest, drops f-bombs and c-bombs on his girl repeatedly, then goes to bed with her.
Pretty awesome, if you can get past how awful it is.
The current third season is being filmed back in Jersey with a few weeks to go. Will Sammi return or leave for good? It's unclear now, but she's really hurt.
"She had to find out in front of everyone that her boyfriend was lying to her and treating her like hell," the source said. "If he didn't want to be with her, why do that on national TV? He embarrassed her in front of 5.5 million people." Pretty much.