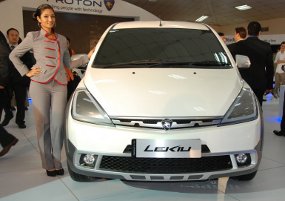 In addition to issue a streaky concept
car Proton
, the Malaysian car manufacturers continue to innovate by showing another form of
Exora
.
If previously

Exora

only known as Multi Purpose Vehicle (MPV),

Proton

is now showing the form of Sport Utility Vehicle (SUV).

Proton Exora

version of this

SUV

like detikOto quotation from Paul Tan, on Friday (03/12/2010), shown at the Thailand International Motor Expo being held in Bangkok under the name Proton Lekiu concept.


This car was entered in a row of Proton Heroes Series concept cars on display at the event.


Well, since this is an SUV, then do not be surprised if the manufacturer of the neighbor country that gives designs a more stout body with a higher ground clearance than its MPV version.


Lekiu Proton design lines tend to futuristic concept with grill lines and sporty front bumper.
At the rear, the backlight is made unique with shapes like the letter L.


In his version of the MPV, Proton gave Exora a Campro CPS engine, four cylinder, DOHC with a capacity of 1600 cc.
The machine is capable of producing power to 125 hp diputaran 6500 rpm with maximum torque to 150 Nm at 4500 rpm.


But for

Proton Lekiu

concept, is not clear what the machine may be embedded.
Proton

is also unclear whether it intends to mass produce this car.


Because when viewed from the Proton line-up that does not have an

SUV

, there is no reason for

Proton

to not make it.