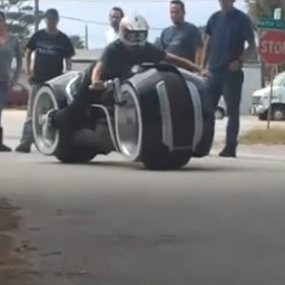 Motors that appear on the big screen often become the inspiration for the modifier.


As the motor in the latest Disney movie that will begin circulating in the U.S. on December 17, 2010 ie, Tron: Legacy.
The film will show a big motor stunning, Tron Light Cycle.


Topspeed was quoted as saying on Friday (03/12/2010), Jeff Halverson, modifier from Florida, United States of America make motorcycles Tron Light Cycle that can be taken for a walk.


Tron Light Cycle version of this street has a length of 2.54 meters, 0.5 meters wide and weighing 215 kg.


Frame made of steel.
And to use a fiberglass body for his running lighter.


For engines using Suzuki engine with a capacity of 996 cc TLR1000 water cooled DOHC V-twin power that can shoot 135 bhp and 78 ft-lb torque.


Tron Light Cycle is quite unique.
First of riding position rather fall down.
This bike is very aerodynamic so that the combined priority factors between the seats, wheels, and handlebars so tight.


Halverson said motor modification results were almost similar to the sportbike who spent up to nearly USD 500 million.
Of the 10 motor homemade, live 4 Light Cycle is available.
Wow already going out yes, but the movie has not been circulated.