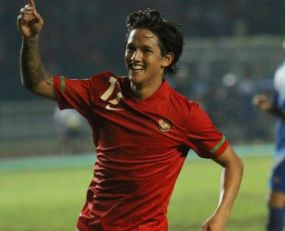 Irfan Bachdim twitter
: "
I am very proud that I can play in the national team of my country. I thank everybody in Indonesia for their support......"
On the football field, sometimes the level of nationalism of a national team player can be judged by whether or not he sing the national anthem of his country.
What about Irfan Bachdim?
As an Indonesian-Dutch footballer mulatto, born

Irfan

grow and develop in the "State Windmills."
He also pioneered the country's football career, with Ajax Amsterdam and FC Utrecht.
His name is known only when it begins play in the Indonesian Super League (ISL) with Persema Malang this season.
And poplaritasnya immediately soared and instantly became a new idol Indonesian fans after appearing in two games ciamik Group A AFF Cup.
Although now getting to be a public figure, probably a lot of people ask levels "Indonesian-ness" Irfan.
Youth 22 years that try to answer it by singing Indonesia Raya in the AFF Suzuki Cup being held in Jakarta, before the kickoff game against Malaysia and Laos
Lip showed that he eloquently recite texts that song, although he has yet recognized Irfan really speak Indonesian fluently.
"How many hours I learned the song

Indonesia Raya

? Approximately 2-3 hours," said Irfan after a little thought, when asked by reporters after attending a team practice on Field C, Senayan, Jakarta, Monday (12/06/2010).
Then how do I pronounce Irfan WR Supratman song creation?
Facilities on her mobile phone music player really helped him recognized.
"I used to recite in a hotel room. Incidentally, I have the song" Indonesia Raya "on my mobile phone," he said.